Overview
Managed Print Services
Optimize Printing for Your Business Today

Benefits of a Managed Print Services Program for your Laser Printers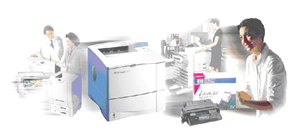 Optimize Printing for Your Business Today
According to industry estimates, total printing costs which include supplies, repair, maintenance and support - command 1% to 3% of businesses' total revenues. While the cost of a printer continues to become ever more affordable, printer-related costs are rising. According to Forrester Research, the printer represents only 5% of the total cost of ownership. HP estimates that the average company's printing costs amount to $800 per employee, per year.

Excessive numbers of outdated printers, paper, toner and reckless use of color printing can easily spiral costs out of control. A thorough print assessment can help you enhance TCO and improve ROI by dramatically streamline printing costs and operational expense.

Callaway Office Equipment can help you assess your print environment and provide strategies to consolidate, optimize and save. Our expertise and authorizations in emerging technologies like multifunction printers, state-of-the-art color printing and lifecycle analysis and management helps our customers improve output processes and reduce printing costs.
---
Benefits of a Managed Print Services Program for your Laser Printers
The average billing is based on your monthly volume. The blended cost-per-page rate covers all of the expenses associated with laser printers, except paper and accessories, (options that are not included with original model).
Included:
On-Site Service, four hour average response time, including remote locations for: Parts, Labor, Supplies, Maintenance Kits

Manage Print Cost

Help Desk ( First Pass ) toll free support

Toner Cartridge delivered to the desktop

One invoice per-month for all supplies

Web access for placing service calls or toll free

Web access for placing supply orders or toll free

No costly inventory for spares on-site

Authorized service and sales provider

Relieving IT Departments of troubleshooting and maintaining printers

Quarterly reviews to adjust for any changes in average print volume for billing
In return this provides you with a program that facilitates only paying for what you print.
The Managed Print Services Program will enable you to reduce the number of vendors, reduce IT's involvement in managing printer related problems, provide consistent pricing and service support and increase vendor accountability.
Callaway Office Equipment will provide an automated tracking and reporting system that will allow you to account for all devices.
---